Scumskullz Adoption Programme
Many people feel extraordinarily attracted to certain Scumskulls. We received many requests if there is a possibility to formally show one's commitment to a Scumskull.
So we have created the Scumskullz Adoption Programme which simplifies the steps necessary for an international adoption of your favourite Scumskull. We guide you through every stage of the adoption with professionalism, personal attention and a high regard for detail. If you decide to adopt a Scumskull you will be mentioned on this website and receive an official adoption certificate.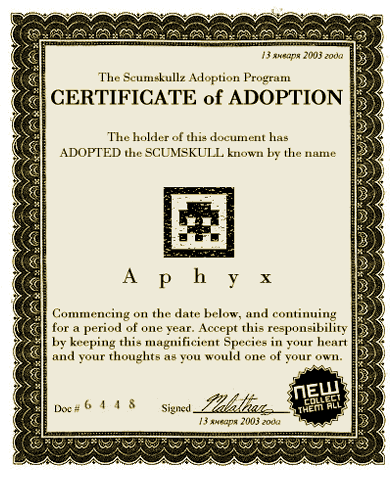 Adopting a Scumskull is not expensive at all. For a yearly adoption fee starting at € 5,– you can establish the most intimate relationship with a Scumskull one can imagine.
How to adopt?
Browse the encyclopedia to find the Scumskull you want to adopt. Make sure that your Scumskull hasn't been already adopted by someone else. On the Scumskull's page click on the link "Adopt this Scumskull". Fill out the adoption form and we will get back to you as soon as possible.
We're sorry to inform you that the Scumskullz Adoption Programme was terminated.